The historic California drought continues to affect Tulare County residents on a broad scale. Dry wells have become the new normal and people continue to suffer. CSET's drought relief services are a lifeline to those most in need.
THE DROUGHT REMAINS
Tulare County is known throughout the nation and beyond as "ground zero" of the historic California drought. Our state has never experienced a natural disaster of this scope in modern history and people continue to suffer. Currently, there are nearly 1,500 dry wells reported in our county alone. Considering that one well can support multiple residences with multiple families, it goes without saying that the number of drought-impacted residents is much too high.
DROUGHT RESOURCE CENTERS (DRC)
CSET has partnered with the County of Tulare, Self-Help Enterprises and United Way to provide much-needed drought relief services to our most fragile communities impacted by the drought. CSET is proud to operate two Drought Resource Centers that act as one-stop shops for drought services. The centers provide impacted residents with emergency bottled water, dry well reporting assistance, mobile shower access (East Porterville only), energy and weatherization assistance as well as referral services to partner agencies and much more. Last year, during the first few months of operation, the Drought Resource Center in East Porterville served approximately 250 residents per day!
PRESS PLAY ON THE VIDEO ABOVE TO LEARN MORE ABOUT OUR IMPACT ON TULARE COUNTY
East Porterville DRC
185 S. Leggett Street, Porterville 93257
1-866-284-5142
If so, please contact the nearest DRC for assistance or click on the drought services links provided below for more information.
PARTNER SERVICES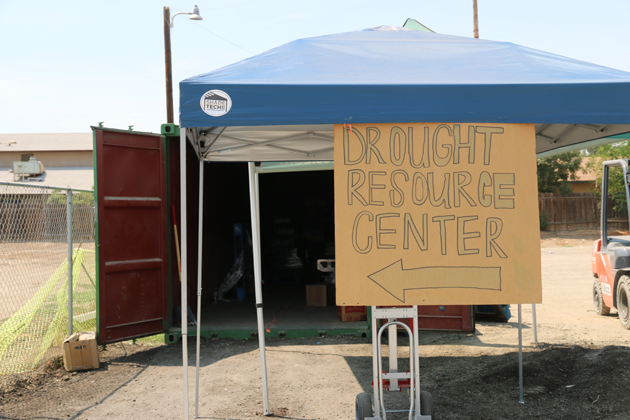 SUCCESS STORY: PROVIDING HOPE WHEN ALL IS GONE
While the nation's cameras were filming the impact of dry wells in East Porterville, families living in the north county were beginning to suffer from the same devastating effects of the drought. One such family belonged to Juana Orosco*.
Juana's home, located off of HWY 198 between Farmersville and Visalia, was one of the first to experience a dry well in the north county. In early 2015, Juana's bedridden husband asked her for a drink of water. Juana walked to the sink like every other occasion only to find that this time she could not meet her husband's request. For the first time, their faucet failed to deliver water.
In need of help, Juana called her son, who came home from work to inspect the water pump. His efforts to identify the problem resulted in no avail, so Juana's son placed a call to a local well company to request a manual inspection of the system. High demand for well pump inspectors kept the Orosco family waiting for days. In desperation, the family purchased bottled water for their basic needs of drinking water, bathing and flushing toilets. When the inspector finally made it out to the Orosco's property, they were told the bad news; their well had run dry. It would cost them $30,000 to drill a new well. With nowhere else to turn for help, Juana called United Way's 211 assistance line for direction.
Several days after Juana's call to United Way, two men showed up at her door and stated they had received her assistance referral. They were there to help. Upon entering Juana's home, the men proceeded to question the Orosco family's need for assistance. They wondered how the family could afford such a nice home, but not the cost of drilling a new well. Juana explained that she was a retired Public Health Nurse as well as an Adjunct Professor at Fresno Pacific University. She explained that as a retiree, she relies on her pension and live-in son to care for her and her ailing husband. On top of the challenges of living on a fixed income, Juana's husband required medical treatment that had them spending $400 on co-payments and traveling over 50 miles one-way to Clovis every two weeks! Between medical, gas and other living expenses, the family's hands were tied and they were unable to drill a new well. The men wrapped up their visit and left. Juana never saw or heard from them again.
As the weeks passed and the summer heat grew stronger, the family's need for a well grew more desperate. Juana's son saw an ad on Craigslist advertising household tank installations for emergency potable water. Juana and her son were able to produce the over $2,000 fee needed for the system. With the new system in place, the family finally experienced some relief from their water woes. However, $250 for water tank refills every six weeks was starting to add up. Unfortunately, their situation then took a turn for the worse. The Tulare County Board of Supervisors had voted to make it illegal for water haulers to deliver water within Visalia city limits, therefore, eliminating the Orosco family's lifeline to water. Suddenly, the family was back at square one. Not only did the Orosco's not have water, but they were left with an empty $2,000 tank in their front yard.
In order to keep the family afloat, Juana's son would visit his sister's home to fill water tanks for his parents' home. Several months of this practice went by resulting in overage water rates due to water restrictions placed as a result of the drought. With so much water being pulled from his sister's faucets CalWater determined that the amount exceeded the documented amount of residents living in the home; yet, another price to pay.
In January 2016, CSET conducted a visit to the Orosco home. The family was informed of the Household Tank Program and a location where they could receive free non-potable water for their home. The free water would help the family while they waited for their household tank to be installed. In addition to drought assistance services, Juana's family qualified for other CSET programs that enabled them to gain a foothold in their year-long struggle with the effects of the drought. CSET staff was able to connect the Orosco family with services that placed them on the path to be self-sustainable once again.
###
A Letter from Juana Orosco:
Dear Ms. Fechner**:
This letter is to express my appreciation and gratefulness to your agency and specifically your employee Mr. Saul Magana for his kindness and dedicated service. My husband and I have had a most difficult year due to lack of water and illness.
Our well went dry a year ago. My husband is extremely ill with liver disease and totally [disabled]. Saul has helped us by providing information on water resources and has provided emergency drinking water on occasion. We had been paying two hundred and fifty dollars for water every six weeks when Saul informed us about the Tulare County water tanks availability. This has gone a long way toward saving much needed money for medicines and medical treatments for my husband.
I want to commend Saul for his compassion and kind heart, most of all his insight and ability to communicate with people in need with respect and tact. Thank you for the work you do in supervising staff like Saul Magana.
Sincerely,
Juana Orosco
---
*Name has been changed to ensure client confidentiality.
**CSET Executive Director Mary Alice Escarsega-Fechner